Status of Acquisition of Certification
Below is the status of the acquisition of certification by the Company.
Last updated: September 6, 2023
Certification of company granted use of Privacy Mark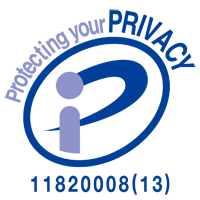 In 1998, the Company was awarded the first Privacy Mark certification (among the 12 companies awarded the certification that year). Based on the recognition of the importance of privacy protection, the Company has been at the forefront of the movement to protect privacy. The Company considers the protection and appropriate treatment of personal information and specific personal information (hereinafter, "Personal Information") as the basis of its business activities and as its social responsibility, and maintains its expertise and ethical standards as a member of the information service industry in conducting its business activities.
Acquisition of ISO9001 Certification
In November 1996, the Company acquired ISO9001, an international product quality assurance certification. In December 2000, it achieved the acquisition of company-wide certification after expanding the range of application. In October 2010, the SI Development Business segment of JFE ComService Co.,Ltd. (formerly known as Kit Systems Co., Ltd.) was included in the relevant business of the Company. In October 2011, additional registration was undertaken for the division that succeeded to part of EXA CORPORATION's business for application development and maintenance for JFE Steel Corporation and the Group companies.
Quality Management System registration certificate (as of November 1, 2022)

Registration Certificate Number
JQA-1442
Registered Operator
JFE Systems, Inc.
Location
Seavans South Building 18F, 1-2-3 Shibaura, Minato-ku, Tokyo 105-0023
Compatible Standards
ISO 9001:2015 / JIS Q 9001:2015
Registration Date
November 1,1996
Last Renewal Date
November 1,2022
Expiry Date
October 31,2025
Scope of Certified Activity

Planning, development, operation and maintenance of information systems (collective term: system integration service)
Development and sale of products, and solution and network services centered primarily on these products

Relevant Business Establishment

Administrative Divisions
Business Solution & Software Unit

Solution Business Div./Business Management Systems Div./Food IT System Div./System Products Div.

Enterprise System Integration Unit

Enterprise System Integration Div./Toyota Office/JFE Group Affiliated Business Div.

Tokyo Office
East Japan Office (Chiba Area/Keihin Area )
Central Japan Office
Kansai Office
West Japan Office (Kurashiki Area/Fukuyama Area)
IT Infrastucture Div.

JFE ComService Co., Ltd.
[Planning and development of information systems]
ISO/IEC 27017 certification acquired
On February 9, 2018, the Company earned ISO/IEC 27017:2015 certification for its ISMS cloud security management system related to the provision of the JGranz® IaaS cloud service.
Introduced by the International Organization for Standardization in 2015, ISO/IEC 27017:2015 is an international standard concerning the provision and use of cloud services and certifying efforts to implement information security measures specific to cloud services.
| | |
| --- | --- |
| Certified organization: | JFE Systems, Inc. |
| Certified sites: | IT Infrastructure Div. Infrastructure Service Dept. Managed Service Group, Cloud Service Group |
| Certification standard: | ISO/IEC 27017:2015 |
| Scope of certification: | ISMS cloud security management system related to provision of JGranz® IaaS as a cloud service provider |
| Date of certification: | February 9,2018 |
| Certification agency: | Bureau Veritas Japan, Co., Ltd. |